August 24th, 2023
Nvidia And Lower Yields Save Equities
We are at a point in time when bad news becomes good news for the global markets.  Mid-week markets rose on weaker-than-expected U.S. and European economic news, and the Hope Machine was again flipped to the ON position.  Investors used the poor data to feed their hope that the Fed and ECB will be forced to pause interest rate hikes.  But what will the Fed do after Nvidia (NDVA) crushed earnings and gapped higher?  Well, I will tell you what the oddsmakers are thinking…  
Markets are now discounting the odds at 11% for another 0.25% rate hike at the September Fed meeting and 43% for it being in November instead. 

The poor housing data, reduced earnings forecast due to poor retail sales from Foot Locker (FL) and Dicks Sporting Goods (DKS), and August's manufacturing data showing a greater-than-expected contraction in the industry all helped bond yields retreat.  Bond futures (/ZB) hit a crucial area of support and bounced higher.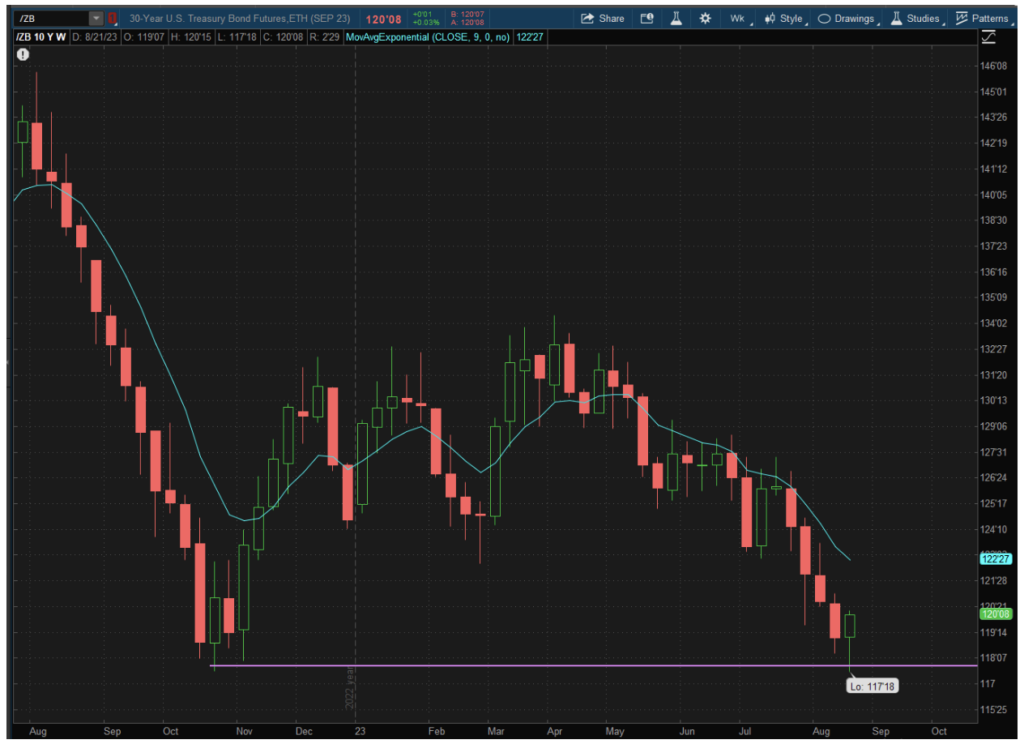 If bond futures head higher from here, we could see the end of near-term selling in the equities markets.  
As I mentioned in an earlier article, we need to watch out now for the re-test of the 50-day moving average.  Here's the chart of the S&P 500 ETF, the SPY.

After nearly 5% of selling from the July highs, it's not surprising to see a dip below the 50-day and now have investors willing to test that level once again.  
Back in March, something similar happened.  We had a test of the 50-day, then a big bounce off the 50-day, and then a continuation of the selling.

The SPY came back up to test the 50-day yet again, fell short, and then slowly started gaining momentum again.
In our current condition, we didn't have the initial test of the 50-day – we just broke through it, then had a bounce helped by Nvidia, and now the question is what will happen as we are re-testing the break?  I think we'll get our answers in September. 

The end of the quarter is a few days away and this last rally has been on lighter volume, which isn't the best sign that the market is ready to continue higher.  
But once the books are settled for the quarter, we will see which sandbox the big market players want to play in for the final quarter of the year.  
If you have any questions, comments, or anything we can help with, reach us at any time.
Email: [email protected]
Phone: (866) 257-3008