This Commodity Pinpoints Market Pivots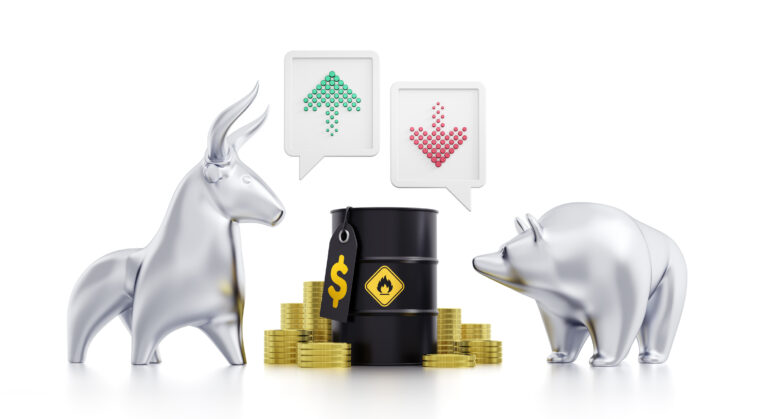 The market is full of that bear market energy, but the hard part is knowing if this is a pullback or if this is the start of something more sinister. What if I told you there is one commodity's key level that can help predict when the market is going to turn around? This key level was breached, just a few days before the market high. What is it telling us now?
The amazing thing about technology is that it is so much easier to share information now than ever before. I consume a lot of information and research from other traders. I like my S&P 500 credit spreads and mostly stick to my sandbox, but it's good to get perspective from other traders. I recently read one trader write about how a Crude Oil key level has pinpointed market pivots.
That crucial point for Crude Oil is $77. Let's go to the charts. The horizontal line shows the $77 level in the Crude Oil Futures contract.
Now, I'll add the performance of the S&P 500 as a purple line to the same graph and you can see that when Crude Oil crosses above $77, the S&P 500 trades flat to down until the price of Crude starts to lower.
The left-most example shows that the Crude cross of $77 was an early warning because it first crossed over that level in October 2021 (and the market kept moving higher – a sign that something was amiss).
This pattern repeated over and over in early 2023 as Crude oscillated around $77. Each time Crude crossed over $77, it timed a market pullback.
Zooming into that Crude Oil chart, you can see that it crossed over $77 on July 24th, 2023, and has been moving higher ever since.
Now, let's look at a chart of the S&P 500… The recent high of the market was put in on 7/27, just a few days after Crude rose above $77.  The S&P 500 has been moving down ever since.

This doesn't mean we need oil to drop below $77 before the market turns around again, but we do need it to head lower and stay under that level if we're going to get a significant move higher from here.
What is problematic is that the U.S. Dollar is also been on the rise since July 21st. Oil and the Dollar typically have an inverse relationship, but when both are rising at the same time, you have an enormous amount of bearish energy in the markets.
Look for the bears to remain in control until Oil heads lower. For Oil to fall, the Dollar will need to continue to gain strength.
A strong dollar isn't good for every sector of the economy.
If the dollar keeps rising, I'd look at domestically-focused sectors to do well in the short term. That would be things like Utilities and Real Estate. I'd also look for small to mid-cap companies to outperform.
That means ETFs and stocks like the Russell 2000 (IWM), Vanguard Real Estate (VNZ), PowerShares US Dollar Bullish Fund (UUP), Lockheed Martin (LMT), UnitedHealth Group (UNH), and EOG Resources (EOG) might be worth taking a look at to weather this downturn until we know if this is a pullback or something larger.
If you have any questions, comments, or anything we can help with, reach us at any time.
Email: [email protected]
Phone: (866) 257-3008
Jeff Wood
Editor, Filthy Rich Dirt Poor
Coach, Options Testing Lab
Any trade or trade idea discussed is for educational purposes only.  They will not be tracked as an official trade recommendation.
267 Kentlands Blvd #225
Gaithersburg, MD 20878
P. (866) 257-3008
(Monday-Friday 9:00 AM-5:00 PM EST)
Publisher of actionable and proven strategies and tactics to help investors build wealth and reach seven-figure portfolios.